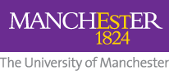 Home
Directorate for the Student Experience
Student Lifecycle Project (SLP)
The SLP is one of the biggest change projects our University has undertaken. It will make things better for students and simpler for staff by introducing improved processes and procedures supported by the new My Manchester and upgraded IT systems including Microsoft Dynamics and Campus Solutions 9.2.
The SLP, together with the new My Manchester and the University's other transformational change projects, is creating a foundation that will help us to address many of the significant challenges facing both our University and the higher education sector as a whole.
Want to stay up to date with the SLP?
Be the first to hear news and updates from the project.