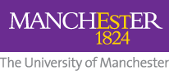 Home
Directorate for the Student Experience
At a glance: How will our Student Lifecycle Project improve graduation?
28 June 2018
We've produced an infographic to give an overview of some of the key improvements to graduation powered by the SLP.
Comments and questions can be submitted through our online form (we answer them every month in our newsletter) or by emailing studentlifecycleproject@manchester.ac.uk.