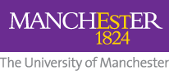 Home
Directorate for the Student Experience
How will the SLP make things simpler for academic colleagues?
5 April 2018
One of the key aims of the Student Lifecycle Project is to simplify processes undertaken by colleagues to deliver the student journey, allowing staff to spend more time on value-adding activity.
Improvements delivered by SLP will make things simpler for academic colleagues and include:
Introducing an academic staff dashboard within the re-designed My Manchester, giving a one stop shop to display mobile friendly personalised staff timetables, including teaching activity and student appointments, alongside outstanding tasks, such as assessments to mark and appointment requests from supervisees or students
Digitising the exam paper approval process through the use of a modern, mobile friendly academic dashboard, sending automated communications to staff when exam papers have been uploaded and require approval, and creating a reliable and secure digital version history and audit trail for each paper
Recording external examiner appointments digitally, with automated communications sent out to relevant staff towards the end of appointments
Capturing exam attendance and any exam room incidents digitally, attaching this information to individual student records automatically and giving academics access to this information
Giving academic staff access to engagement and attendance data for their students, including current and historical individual student grade data, to help with academic advisement and pastoral support
A secure, digital area for academic colleagues to record application notes and decisions, automating associated communications to relevant PSS staff when their involvement is required
Capturing room requirements during the course unit design process and simply asking academic colleagues to tick a box on a digital form annually to confirm whether their requirements remain the same
Creating the underlying IT platform to allow the University to begin to deliver exams through formats other than paper in the future without the need for significant further systems development
Using a combination of academic progression trackers and milestones to track student progression, allowing both academic and PSS staff to flag any issues
Creating a graduation area in My Manchester so that academic staff can easily sign up to perform roles within individual ceremonies, have these added to their timetables and receive automated communications to remind them of requirements nearer the time
You can read about more proposed improvements here.