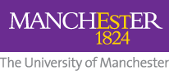 Home
Directorate for the Student Experience
SLP engages with over 130 senior colleagues during Scope Update
9 March 2018
During the SLP's period, over 130 senior colleagues from across the University received presentations on some of the 4,000 requirements, changes and improvements captured during the Project's phase. They also provided feedback on the changes proposed for delivery through the SLP's in September 2019 and what should be prioritised for future releases.
Some of the recommended changes presented during the Scope Update sessions include:
Start of Year: reducing academic registration to 3 simple steps and only requiring students to complete it once per programme, rather than annually.
Change to Circumstances: replacing paper forms with standardised digital forms, hosted in My Manchester, for mitigating circumstances requests, programme change requests, interruption to studies requests, academic appeals and complaints.
Timetabling & Assessments: reducing the number of timetable changes and ensuring the University's estate is used as efficiently as possible, using the Central Timetabling Unit (CTU) to schedule all teaching activity.
Student Mobility: identification of a business owner and staff with overall responsibility for student mobility activities, to support the efforts of School based student mobility staff.
Graduation: simplifying the process for students to register for their graduation ceremony and reception, hosting it within My Manchester, and confirming dates months earlier than at present.
Campus Life: functionality within Microsoft Dynamics 365 to allow staff to take a holistic view of a student's support interactions.
Slides delivered during the Scope Update are available here, and a comprehensive update will be shared in March's edition of the SLP newsletter.
Sign up to the SLP newsletter.