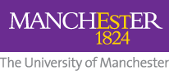 Home
Directorate for the Student Experience
Spotlight on PGR: Key changes related to the PGR student journey
17 October 2018
Direct entry application form: The new direct entry application form will use logic so that only relevant questions are displayed. Once an application form is submitted, the applicant's referee(s) will be contacted automatically. And if an applicant is required to request a supervisor, they will have the option to pick three and rank them in order of preference.
Start of year: Academic registration will take place once per programme rather than once per year, and students will be able to make payments, set up direct debits, and update their bank details through a new 'My Financials' screen in My Manchester.
Self-service documents: Students will be able to download and print official documents, such as confirmation of attendance or confirmation of fees, rather than going in person to a registration venue or the Student Services Centre.
Student support: Staff will log student support interactions in Microsoft Dynamics CRM. It will be possible to set a concern flag with an interaction. If three concern flags accumulate a notification will be sent to a specialist support service to request that a member of staff views a student's record.
Student mobility: Students undertaking field work, engaging in research placements/exchanges or undergoing split-site PhDs will benefit from clearer processes owing to the creation of a student mobility business owner. Contracts, risk assessments and other due diligence checks will be stored on a secure document management system.
My Students Hub: Academics will have a single view of their students and tasks in a new dashboard within My Manchester. This includes students' taught modules, training activities, progression activity, attendance, assessment, and the option to contact a student directly.
Progression (student view): Students will manage and complete activities, tasks and milestones – such as Research Integrity Training, Development Needs Analysis, and the Annual Review – through a new 'My Progress' area of My Manchester, replacing eProg.
Progression (staff view): When students complete an activity in My Manchester, the relevant member(s) of staff will be notified, either through the new My Manchester (for academic staff) or Microsoft Dynamics CRM (for PS staff). Once all members of staff in the workflow have completed their activity – for example to write up details of an annual review, or to confirm attendance – the student will be notified in My Manchester.
Rationalisation/simplification of MDC forms*: A subgroup of the Manchester Doctoral College has been working on standardising and simplifying MDC forms for progression, attendance and assessment. The next stage is to agree standardised content for forms at School/Faculty and programme level.
Change in circumstances: Students will raise requests for things like mitigating circumstances, academic appeals, religious observance, complaints, and interruption through standardised forms in the new My Manchester. Staff will use CRM to manage cases. Associated communications will be automated: for example, if a member of staff marks on CRM that more documentation is required, the student will be contacted automatically and asked to upload the relevent documents through My Manchester.
Workflow functionality and task management: Microsoft Dynamics workflows will be used to allocate tasks to specific members of staff. For example, tasks related to a specific School or programme can be allocated automatically to a specific team within CRM, and then to specific members of staff.
Improved querying: Staff will be able to run reports on real-time data through Microsoft Dynamics CRM, rather than using 24-hour old data from the data warehouse. This will improve our ability to provide management information and monitor student progress.
Thesis submission: Students will submit their thesis through My Manchester and it will be stored in Microsoft Dynamics CRM. An integration between CRM and Pure would make the thesis available at the correct time, but this is subject to a change request. If there is no integration, theses will continue to be stored in eThesis.
Graduation: The date and time of graduation will be announced months earlier than at present. Students will register for the ceremony and reception in the new My Manchester. The central graduation team will allocate students to a reception in a marquee after their ceremony.
*outside SLP scope but key dependency