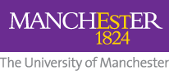 Home
Directorate for the Student Experience
The Manchester Welcome
Welcome is our chance to make a fantastic first impression on all new students, and make sure they feel as prepared as possible to succeed. We also want to begin to provide students with the knowledge and information they need to make the most of their time at Manchester.
The 2019 Manchester Welcome will provide a seamless programme of Welcome activities to all students, by integrating International Orientation and working closely with the Students' Union. The 10-day programme is designed to complement School inductions, and signposting students into School academic and support services is a high priority for the period.
This year also sees the introduction of an earlier programme of events designed for pre-sessional students.