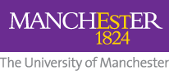 Home
Directorate for the Student Experience
Risk Assessments
No new activity is to be carried out without the risks associated with that task being assessed and recorded. Where necessary an action plan may be required to reduce the risks identified to an acceptable level. Guidance in relation to this is provided in The University of Manchester Code of Practice in relation to risk assessment.
In some circumstances a generic risk assessment may be appropriate for a particular activity. Advice should be sought from the Health and Safety Officer as to whether this is appropriate. Generic risk assessments must not be produced as a matter of course.
These sample risk assessments are provided for your information. They should be adapted for use in your individual areas and validated and reviewed on an annual basis.